Around 6 in 10 people in the United States who have an internet connection shop for items online at least once a month. It, therefore, makes sense to take advantage of the several eCommerce platforms to get at this market.
However, a significant portion of your target market might not be able to access the given platform on which you conduct business. There are several choices of online marketplaces that your base can choose from.
Furthermore, they might just find it a tad inconvenient to have to go through several eCommerce platforms to find what they want. It is, therefore, prudent to tap into a platform that houses a very large section of your customer base. Enter Facebook Marketplace.
The social media company boasts close to 1.7 billion users according to Statista. Facebook Marketplace positions your online business directly in front of a sizable chunk of your customer base.
Let's take a closer look at this new channel for the growth of your business and the benefits of conducting business on the platform.
What exactly is Facebook Marketplace?
Marketplace is an undertaking by social media giant Facebook, offering a platform for commerce among its users. Originally, the platform only supported P2P transactions between individual Facebook users.
However, the tech behemoth rolled out more features of the eCommerce platform. These new features support B2C interactions. Facebook Marketplace for Businesses is available for online retailers to get in touch with their individual customers and lead them through the sales funnel.
From advertising and communicating with leads directly through Facebook's Messenger messaging app, Marketplace aggregates all the vital parts of online commerce under one tech umbrella, making online business convenient.
What are the benefits of using Facebook Marketplace?
Several online businesses are turning to Facebook Marketplace as a primary eCommerce platform to reach out to their target market and offer their products.
There are several reasons for this. Take a look.
1. A viable substitute for brick and mortar
Facebook Marketplace provides merchants with a virtual store for them to transact business out of. This virtual platform replicates many of the vital features that one would have in a physical location out on the street.
The storefront that Facebook Marketplace provides a dedicated Shop section that allows online vendors to list and manage their stock and inventory. Furthermore, the Shop section on this business' Facebook page is a customer-facing feature that allows them to browse through listings à la window shopping.
Here is an example of a storefront of Facebook Marketplace.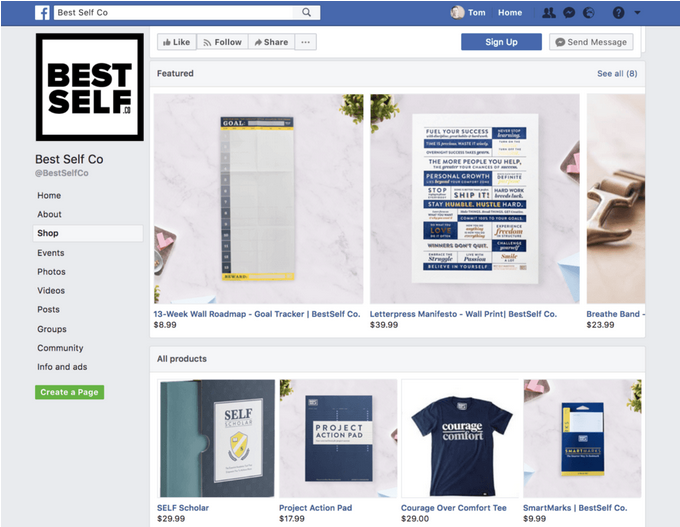 This is advantageous in a way that prospective clients do not have to leave the store's Facebook page to get what they want. In the world of online sales, they could easily be distracted by something off-page, costing you conversions.
2. A large grouping of your target audience
As alluded to earlier, Facebook houses the largest online population when it comes to social media platforms. This means that a very large section of your target market is all congregated in one virtual space, enabling you to find them easily.
Furthermore, Facebook's algorithm makes for a personalized shopping experience for your customers. What this means is that the platform will connect potential clients with the brands they are interested in or with the vendors of items they want.
Here is an example of items Facebook has curated for a potential customer based on their previous activity.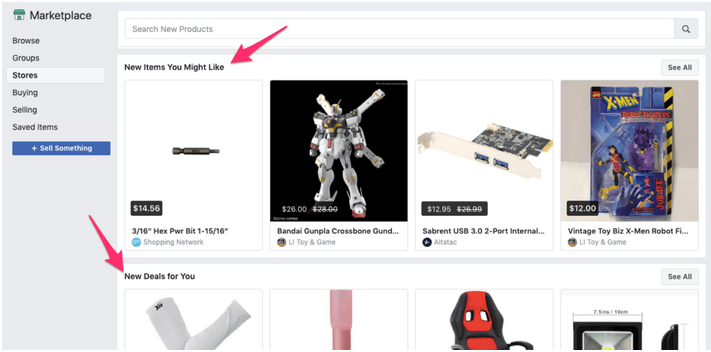 This means that the target audience is very likely to find you just by searching for what they need. Additionally, craft ads that are highly specific to the desired audience. These targeted ads will beget leads that are more than likely to turn into conversions.
3. Better communication with customers
As a social media platform, Facebook is already hardwired to promote communication between different entities in the shortest time possible. When it comes to online businesses on its Marketplace platform, the tech outfit leverages its Messenger app to ensure that clients and vendors.
With Messenger, buyers and vendors can communicate instantaneously in real time, enabling them to discuss the particulars of the product or haggle over prices. It is also a great way for clients to air any grievances they have over a product they have bought.
By enabling this mode of communication, Facebook Marketplace ensures that buyers have a favorable experience that would not be achievable on other stand-alone eCommerce platforms.
4. Working with other eCommerce platforms
As an online business, you might already have a virtual presence on another eCommerce platform. Facebook Marketplace for Business allows integration of the specific platform account with Facebook to display the inventory.
Facebook Marketplace is compatible with:
Shopify
BigCommerce
ChannelAdvisor
DataCaciques
Quipt
Salsify
Zentail
5. Easy management of orders
Several things go into fulfilling a single order. The customer needs to clear their cart and you need to ship out the item to the client. If the client is not pleased with the item, they have a right to request a refund. In such a case, you need to be able to provide a chargeback.
Additionally, you have to keep track of the sales tax for the different products in the inventory. When everything is in order, you can transfer your money off the platform directly into the business' bank account.
Facebook Marketplace makes the management of all these easier with its order management tools. These tools enable onsite checkout so that buyers do not have to leave your page to make a purchase. Furthermore, the online store can automatically send notifications to the buyers when you ship their items.
The platform also provides tools to help the online business to keep track of sales tax, chargebacks and facilitate direct deposits to the bank account. This convenience allows the proprietor to channel their energy to other aspects of the online business.
How to garner success on Facebook Marketplace
Creating a Facebook business page and setting up a store on Marketplace won't lead to instant success. To taste success on the platform, you need to constantly optimize your store so that it can get traffic from potential buyers.
Here are a few things you can put into action to increase chances of finding success on Facebook Marketplace.
1. Make your brand ring out
The first step to success on this platform, just like in any business, is to promote the brand. When prospective customers are aware of your brand name and what you deal in, they are more likely to reach out to have a look at the products.
Create a business page on Facebook and promote it. Craft posts about your products and their features. Additionally, launching special offers can also create some buzz about the brand across the social media platform.
With this buzz, the business page will gain followers so that they can stay in touch with the posts. The higher the number of followers, the easier it is to reach out to more potential targets in your audience of interest.
Alternatively, you can launch ads with Facebook so that they show up in the organic feed of users across the platform. Those who are interested can follow the link to the brand's page. Furthermore, the business can leverage the power of influencers to drum up interest in the brand and its products.
2. Craft appealing aesthetics for your wares
When potential customers come across your online store, they will view the items that they are interested in. It is, therefore, prudent that the photos of the products are high quality and true depictions of said item.
Hiring a professional photographer is a worthwhile investment. They will take photos of the items from all angles and also ensure that they are of high quality. By posting all the angles of the product, your customers can see what exactly they will be buying.
It's also a good idea to place the object in an appealing environment. The photographer can suggest appropriate backgrounds that make your item pop. The overall aesthetic of the virtual storefront draws in clients.
3. Price products competitively
Various vendors on the marketplace offer similar or even the same products as your online business. One way to get ahead of them and get a larger slice of the market is by pricing the products competitively.
Carry out research on other players in the market and see what their business is like. What kind of prices do they have to offer? Do they have any promotions running? What kind of following do they have and what online persona does their brand exude?
With this on hand, set competitive prices and offers that your shared target would prefer over theirs.
Keep in mind that many of the potential customers will haggle over the prices displayed on the items in the store. It is, therefore, prudent to set the price a bit higher than the desired amount. This provides wiggle room necessary for negotiations.
4. Provide a good customer experience
Customers will keep coming back if they have a good experience dealing with the brand. The majority of online transactions hinge on trust. Provide customers with a good reason to trust the business and they will pass on the word.
One way to ensure that customers have a good experience is by communicating clearly and promptly when they get in touch through comments on posts or private messages on Messenger. Following up after items have been shipped out and delivered shows the customers that the brand cares about their experience with the products. If there are problems with the product, you can offer to replace or refund the item. All this goes a long way in providing a good experience and building trust in the brand.