The success of an eCommerce site relies on customers coming back often to get what they need. Furthermore, these very customers spread awareness of the brand through word-of-mouth.
Where are we headed with this?
What we're driving at is that there is a need to ensure that a business' customers have a good experience when dealing with the site. After all, 79 percent of customers say they are less likely to return to a site where they have had a bad experience.
It is also no surprise – according to Deloitte – that 88 percent of businesses prioritize the customer experience.
And how can one ensure that their customers are getting the best experience? In many instances, it is as simple as asking them.
Collecting customer feedback from your clients can be a huge undertaking if you do not know what you are doing. There are several ways in which companies glean information from the customers to determine how they feel about their services.
PwC backs this up, stating in their 2020 report that there is an increase of 80 percent in expenditure in various methods of collecting customer feedback.
Here are the various ways in which you can get customer feedback about your eCommerce site.
1. Leverage the power of social media
If a client can access your eCommerce site, chances are that they have a presence on some sort of social media platform.
The major sites that host billions of users include Facebook, Instagram and Twitter. Your brand should also have an account on these platforms to interact with current and potential customers.
If customers have an opinion about your site's service or products, they will more than likely talk about it on social media. They either do this on their feeds or even directly contact your page.
By examining your brand's mentions and interactions on social media, you can keep a finger on the pulse – keeping abreast of the kind of waves that your site causes across the digital world.
Some tools can help you monitor your social media channels such as HootSuite, Talkwalker, Reputology.
2. Keep tabs on brand mentions anywhere else on the internet
Social media is not the only place where people will talk about your brand. The name might crop up in other facets of the internet like blogs and news items. It is, therefore, prudent to keep an eye on these mentions.
One way of doing this by setting up Google Alerts for your brand name or products and services. Whenever there is a hit, you receive a notification. This lets you monitor whatever is being said about the site and brand.
Monitoring this online chatter informs lets you know that light in which the general public – potential and current customers – view your brand.
With this information in hand, adjust your eCommerce site or product lineup to ensure that customers have a satisfactory and memorable experience. Not only will they keep coming back but they will also be compelled to pass on a good word about your business to other people.
3. Use a pop-up survey
This is perhaps one of the best ways to get feedback from your customers. Not only is it direct but it is also convenient for the customers.
You can display the survey button in a convenient and visible location on your website so that your customers can access it whenever they want to leave some feedback.
Alternatively, you can lead customers into leaving feedback by utilizing pop-up surveys on your eCommerce site.
How does this work?
Craft the survey to pop up at various instances along the customer journey. This makes it more relevant to the particular activity that your customer is carrying out on the website. In this way, you can easily pinpoint what your customers like about a particular feature and what they don't.
Furthermore, opt for exit-intent surveys. When your customers are done with using the site, this kind of survey pops up as they attempt to exit the platform.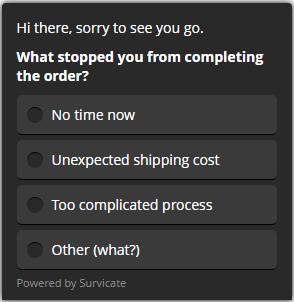 Refine the settings of the survey so that it pops up if the customer exits the site quickly or after a while. Through this, you can find out why they are leaving early, whether the experience was unsatisfactory and vice versa.
This is an excellent way to find means of lowering the bounce rate on the site and the churn rate of the business. Here are some tools you can use for surveys: SurveyMonkey, Typeform or Survicate.
You can also consider using post-purchase surveys: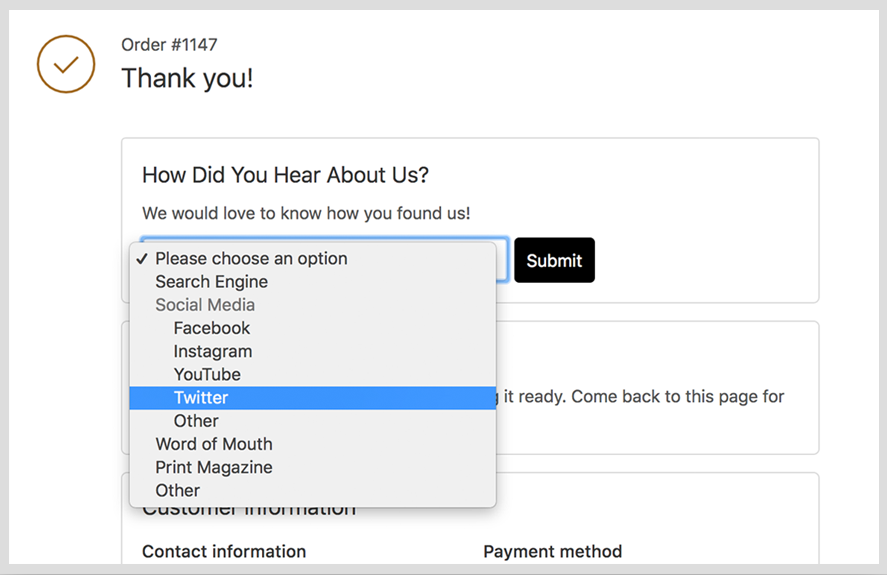 4. Motivate visitors to the site to leave feedback or take surveys
Even if you place a survey button in a visible part of the eCommerce site, a majority of the visitors will exit the site without bothering to leave any feedback. Additionally, you might use an exit-intent pop-up survey to determine the customers' experience with the site. Still, they might just go ahead and click the X without a second thought.
One way to circumvent this problem is to incentivize the survey. In simpler terms, tell the customers that they will get a reward for taking the survey or leaving feedback. Inform them that they will receive discounts on the items they buy from your site if they give some feedback on their interactions with the site's features or products.
Alternatively, provide gifts or free resources if the site users undertake the survey. The gifts could be in the form of a free eBook, template or coupon.
This will increase the number of people who provide feedback. Consequently, the analysis of the survey submissions will paint a clearer picture of the experience the site provides to customers.
5. Take advantage of live chatbots
In the earlier years of eCommerce, customers had to get in touch with the business via telephone calls to the contact center or through emails. Not only did the business personnel have to dig through thousands of emails, but customers also had to endure long wait times while on hold.
Many eCommerce sites have a live chat option located in the corner of their landing pages. This enables customers to get in touch with the company in a more efficient and timely manner.
If the customer has a frequently asked question, programmable adaptable bots can chat with the customers and provide assistance. According to global research firm Gartner, a quarter of all customer interactions in 2018 were automated through AI and machine learning.
Likewise, customers can also get in touch with a real-life correspondent if they have a more complicated issue.
You log and analyze all these interactions to determine where on your site the customers find problems. You can also find out which products they aren't pleased with.
This analysis helps you to refine your site so that customers can have a flawless experience. This experience also includes a timely response in the chat.
6. Surveys through email
Although it is cliche, the adage old is gold rings true in this instance. For years, businesses – online or otherwise – have been sending emails to solicit feedback from their customers.
eCommerce sites compile lists of leads. They acquire these email addresses during the initial stages of the customer acquiring an account on the site or during other stages of the marketing and sales funnels.
It is, therefore, prudent to leverage these lists. Send well-crafted emails or newsletters to customers and include a call-to-action to complete a survey. Furthermore, you can include the aforementioned incentives and rewards to get more clients to participate in the survey and provide the information you need.
So, despite several companies pivoting away from the use of email in various other facets of the business, email still holds value when it comes to getting in touch with customers. After all, some of them might not have an online presence via social media platforms.
7. Track landing page activity
In some instances, businesses needn't actively seek feedback from customers. As the users browse and interact with the eCommerce site, they follow certain patterns from which behavior can be deduced.
Leverage the power of tracking software tools that map the activity of the customers when they are interacting with the website. From the mapping results of these tools, you can examine and analyze customer activity on the site.
Some tools go as far as recording actual customer online sessions to give a much clearer picture of how they interact with the site. Consequently, you can draw conclusions about their experience from the behavior they depict.
You can use tools such as Inspectlet or Hotjar to record customer sessions, they both propose free plans.
Armed with this data, you can refine the site to provide the customers with a better online experience. Additionally, tweak the lineup of products on the site to provide the customers with what they want.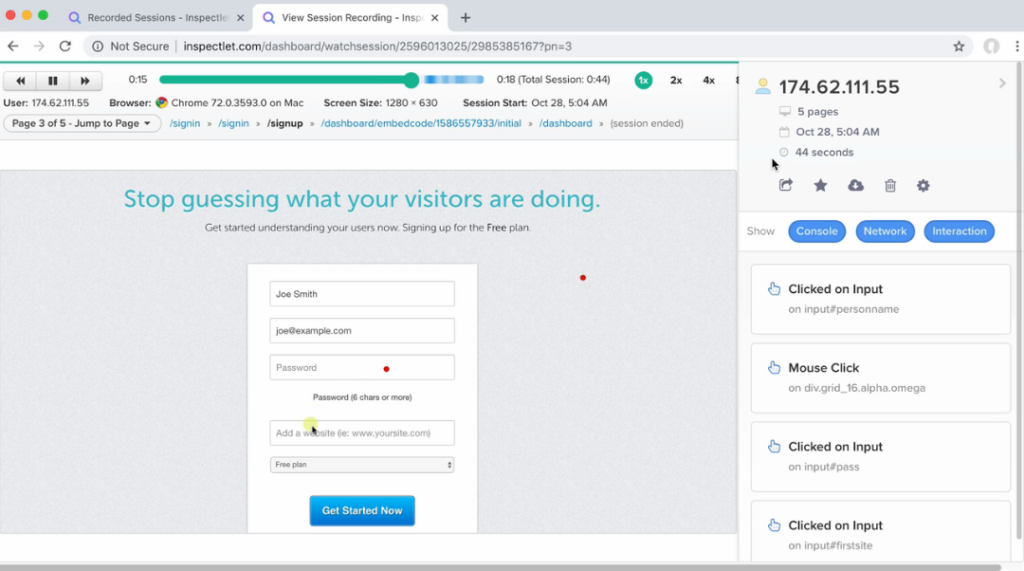 In conclusion
Getting customer feedback is vital for the success of any eCommerce undertaking. Not only does it help you get an understanding of current performance but it also guides the betterment of the site. With the methods we have mentioned above, an eCommerce site can glean various types of feedback from its clients to make their experience better. Consequently, the bottom line is more likely to make for good reading.