eCommerce businesses strive hard to design their websites, refine them and optimize all features and content to draw in customers. However, even after all this intensive work, only a small fraction of the traffic they get converts into sales.
According to Smart Insights, only about 3% of a site's visitors proceed through the sales funnel to the very last stage when they check out the items in their carts. So, what can eCommerce businesses do to make their sites more profitable? The answer is quite simple.
Offer some sort of incentive to the prospective customer in exchange for their contact information – usually an email address. This is what is known as a lead magnet. The prospective customer – the lead – provides their email address because they have been attracted by the offer or incentive – the magnet– you have provided.
By using lead magnet, you can convert more of the remaining 97% of your site's visitors into actual paying customers.
eCommerce sites are as different as the people who patronize them. Some of these online businesses sell tangible products whereas others offer services and software. Nonetheless, they all need lead magnets to boost their bottom line.
Although these various eCommerce sites take advantage of lead magnets, they don't all follow the same script. Different magnets work better for certain businesses than others do.
Let's take a look at some examples of lead magnets that you can incorporate into your eCommerce site.
1. Discount codes and coupons
Per the Statista Global Consumer Survey, 60% of respondents would buy an item online if they were getting cheaper prices. It is, therefore, prudent to leverage this fact and use it as an incentive to build your online business' email list.
Potential customers will provide their contact information if they believe that you're offering them a good deal with the discount code or coupon.
Not only do you acquire new leads easily through this method but you can also clear stock of products that are not selling well. Usually, potential customers scroll and browse through these product pages without so much as a second glance.
And if they do add them to their cart, they don't check them out. You can incentivize customers to buy these products by discounting their prices whilst requesting their information too.
Additionally, you can make the discount conditional; prospective customers can only pay a reduced price if they are purchasing above a certain amount or if they are buying more than a certain number of products.
Take a look at this example of a discount lead magnet.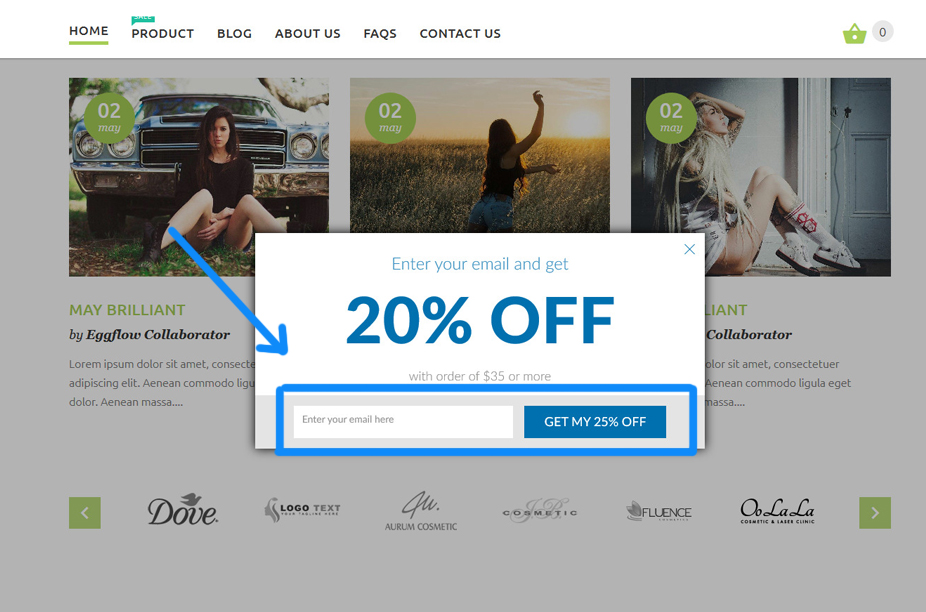 2. Educational/Informative resources
Another way of building an email list for your eCommerce site is offering educational or informative resources to your customers.
According to the aforementioned survey by Statista, 40% of prospective customers are more likely to buy an item online if they have more information about the product. Furthermore, 7 in 10 people buy a product if it solves a problem they have.
Get more leads by informing potential clients how your product or service can solve their particular problem. One of the most effective ways of doing this is offering free resources like ebooks, guides and even infographics.
Customers can access the free resource by providing their email addreses to which you can send the ebook, guide or infographic.
For example, if your site offers beauty products. You can offer your clients ebooks or guides about how to use your products.
This is exactly what this brand did. Take a look.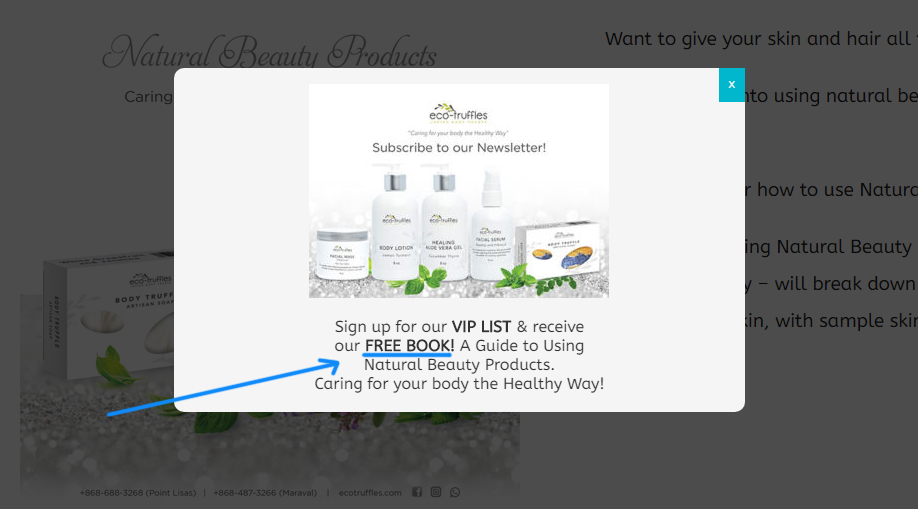 3. Free Shipping
According to a 2018 study published in Statista, 80% of consumers in the United States would purchase more online if they had free and fast shipping. Your eCommerce site can take advantage of this to increase its leads.
Many customers browse your site and add several items to carts. However, very few of them ever check out their entire carts. You can encourage them to clear their carts by offering free shipping. In exchange, they can list their contact information to claim the offer.
And just like the discount offer, you can make this offer conditional on the number of items bought or the amount spent.
Here is an ingenious example of utilizing this lead magnet. Kate Spade, an online retailer of designer handbags and accessories, combines free shipping with a discount offer to entice more leads. Additionally, the pop-up is the first thing a customer sees when they open the site to browse.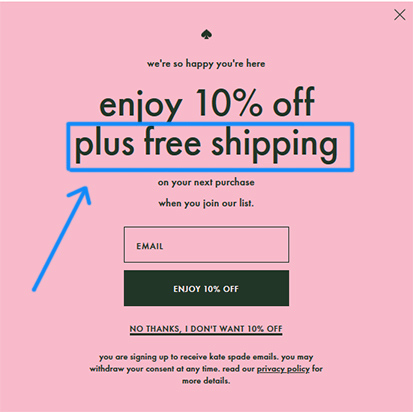 4. Surveys and quizzes
Another effective method of collecting leads is tapping into gamification. Quizzes and surveys are particularly potent ways of getting clients to provide their contact details to build your email lists.
Additionally, quizzes and surveys provide you with more information from your customers about what they think about your eCommerce site and the products on offer. Regardless of how well-built and user friendly your site is, there might always be some aspects and features that ruin the experience.
Place the pop-up as the client exits your site, requesting them to give feedback on their experience.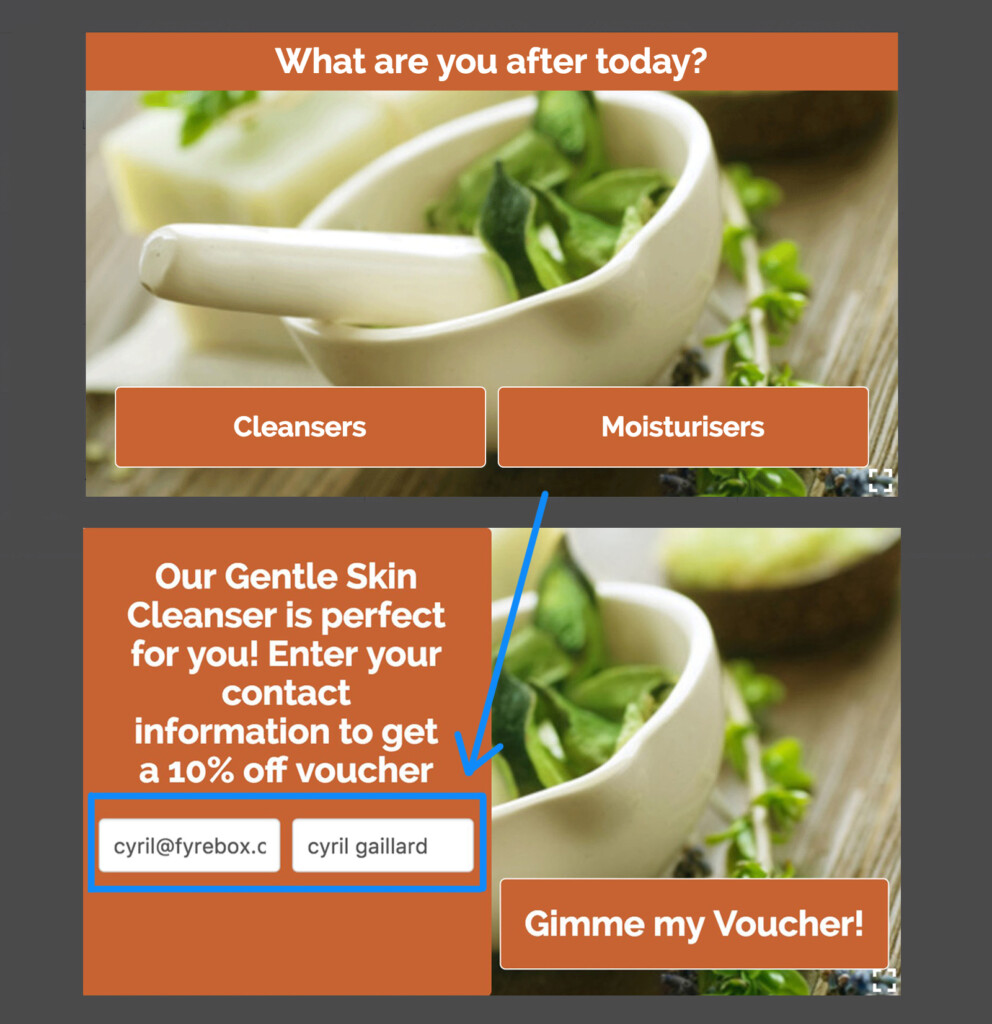 One drawback of surveys is that your customers might not bother to take them because they find it inconveniencing. To remedy this, bundle the survey with another offer to incentivize customers to participate.
5. Spin wheel games
These spin wheel games are an ideal way to attract people and get leads for your business. Everyone likes to have a chance to win discounts or special deals, and the spinning wheel has always been a game that appeals to a large audience.
There are many ways to customize your wheels in order to give discounts, special prices, 2×1 deals, and much more. These games can be customized depending on your business offers and deals.
The Spin-to-win lead magnets have always been quite successful in campaigns regardless of the niche. They are popular because they trigger a gaming rush that most people enjoy.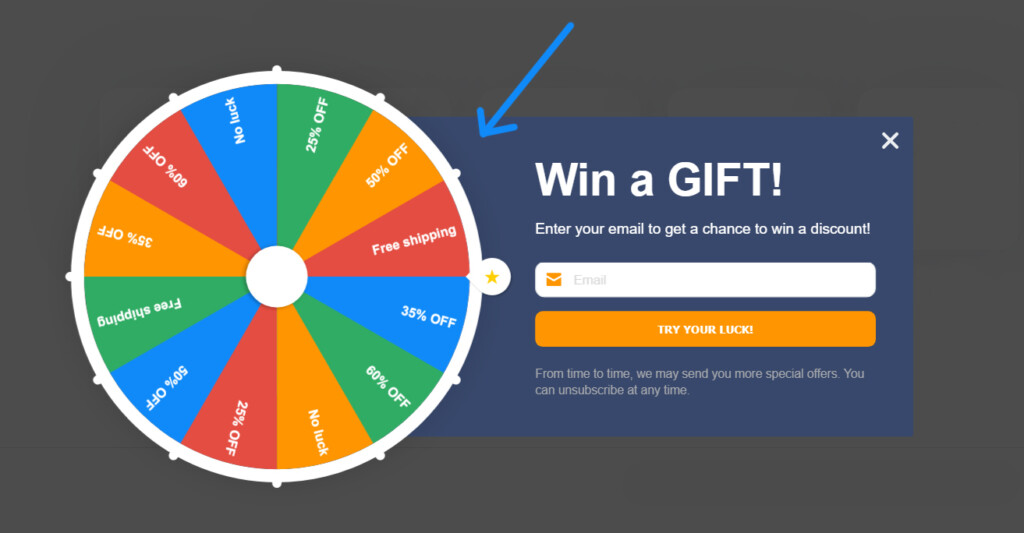 6. Giveaway promotions
There is an incredible amount of lead generating power when you run a giveaway promotion. This is an excellent lead magnet because people are very likely to sign up with their basic information if they can have the chance to win something of worth.
The giveaway should be something that is worth their time. This is why it's important to offer an item that has some value. The most important thing with giveaways is for you to have solid social proof that these giveaways are being delivered to the winners.
This is the reason why you need to be constant with giveaways and soon enough you will build a positive reputation. Once this happens, you will turn giveaways into a massive and engaging lead magnet strategy.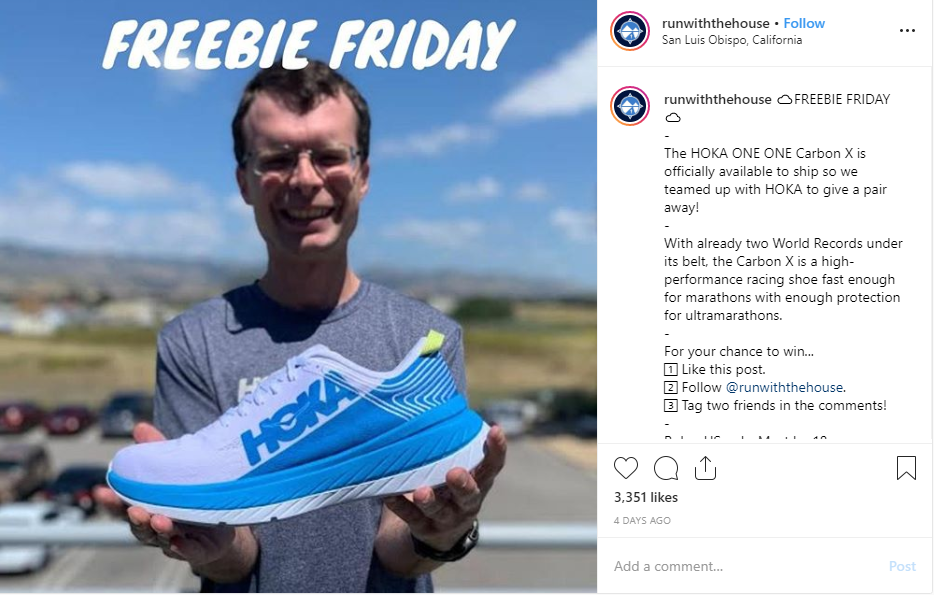 7. Contests
Running a contest is an excellent way to engage your audience and get them to subscribe to your newsletter or sign up for your services. People love contests because there is something that is naturally addictive about the process of waiting to see if you have won something.
This appeal is something that many marketers have used to their advantage for many years. When you create a contest with prizes, you are getting an outstanding return on investment. All you need to do is promote your contest to collect as many leads as possible.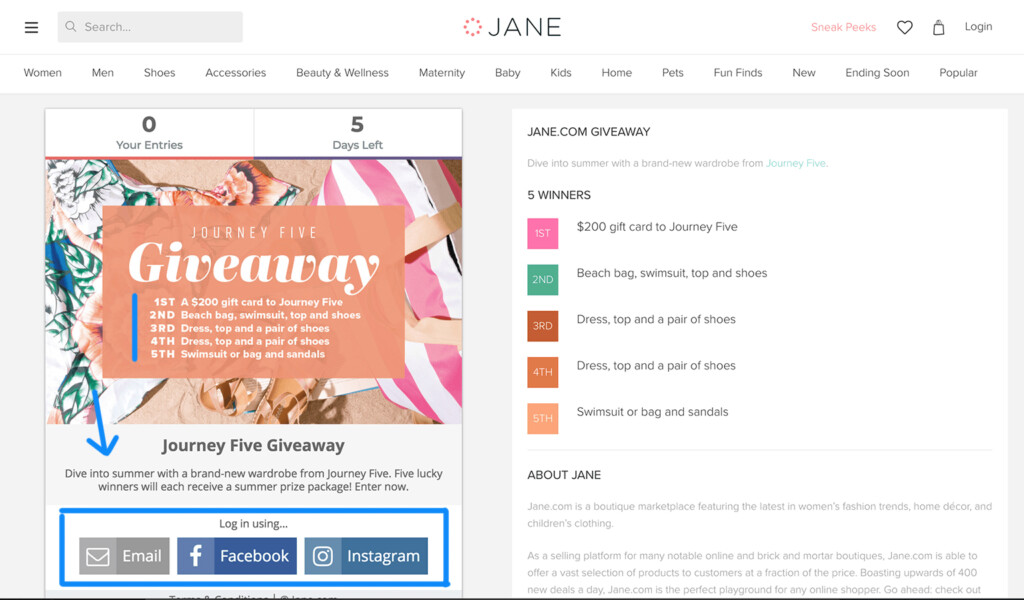 8. Gated content
It's part of human nature to want something more when it is either forbidden or out of reach. This is the underlying principle of getting leads by using gated content. This content can be resources like the earlier mentioned resources, detailed articles, videos or access to experts via webinars.
This strategy is more effective for online businesses that are targeting other businesses as their customers. Businesses and professional executives are more likely to be interested in one-on-one demos, white papers and product trials.
By making this content unavailable, you drum up demand for it. Potential customers will give in to their fear of missing out and sign up to get access to the gated resources. They believe that the restricted content gives them a one-up on the people who settle for the less-detailed free resources.
Deciding which content you should gate shouldn't be so hard. In-depth content, extensive whitepapers, free consultations and content from industry experts provide extensive value to B2B customers. They are willing to fill in forms to get exclusive access to this content.
In this example, B2B company Infusionsoft offers a product demo of its email marketing software. To get access, prospective clients fill a detailed form, offering more than an email address as is the case in other kinds of lead magnets.
Furthermore, the company displays the reputable publications in which they have been featured to inspire confidence in potential customers.
Moving forward
Lead magnets are an efficient way to execute the marketing strategy of your eCommerce business. Different kinds of online businesses require different kinds of lead magnets. By choosing the right ones, you can grow your list.
Craft the copy on your magnets to align with your business values and what your clients expect from you. Not everyone will want to exchange their personal or business details for a discounted product. They might want more information so that they can advance in their given professional field of operation.
Furthermore, place your lead magnet where it is appropriate. It would be ill-advised to spam the entire landing page with pop-ups. Instead of acquiring new leads and sales, your eCommerce site will have a higher bounce and churn rate.
Place surveys at the end when the customer is attempting to leave the site. Discount offers are more appropriate at the checkout page. Free ebooks can have a dedicated landing page or as calls-to-action on the side or bottom of the page.
There's no cut and dried method for leveraging lead magnets to increase the profitability of your eCommerce. Tweak and refine your offers, assessing the response from each until you settle on the strategy that brings in the most leads. With your list of leads, reach out to your potential customers with bespoke offers that are more than likely to lead them through the sales funnel to the final stage.
---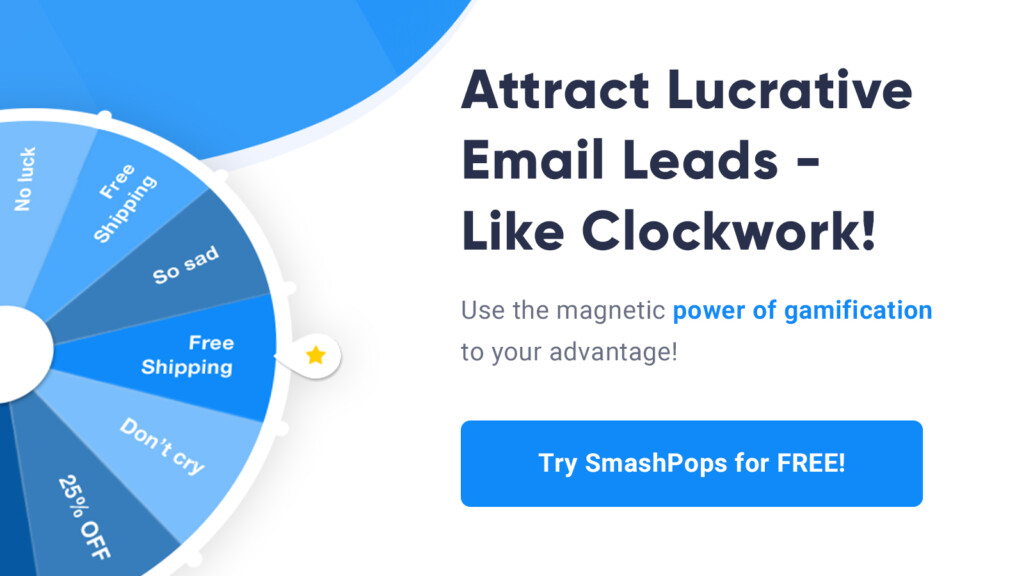 ---